Oral Surgeon in Manhattan NYC
Diplomate, American Board of Oral and Maxillofacial Surgery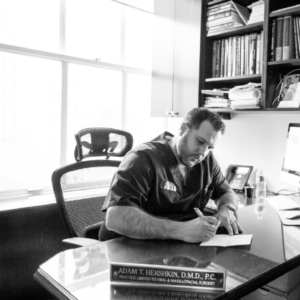 Dr. Adam Hershkin, founder of New York Oral & Facial Surgery, is a board certified Oral and Maxillofacial Surgeon with a concentration in advanced office-based surgery such as complex bone grafting and dental implant reconstruction, difficult wisdom tooth extraction, exposure of impacted canines for orthodontic purposes, as well as conservative treatment of TMJ disorders and oral pathology.
Dr. Hershkin was born in New York City and raised on Long Island. He attended the University of Wisconsin – Madison, where he earned his undergraduate degree in 1996. It was there that Dr. Hershkin first became involved in healthcare and teaching, performing medical research and teaching classes in the department of anatomy. Before graduating, Dr. Hershkin lived in London for several months where he collaborated on a research project in the department of anatomy at Kings College.
Dr. Hershkin went on to dental school at Temple University in Philadelphia, where he found himself drawn to oral and maxillofacial surgery. He was elected secretary of the oral and maxillofacial surgery honor society and earned his DMD in 2001. After completing a surgical internship in oral and maxillofacial surgery at the Medical College of Virginia Hospital in Richmond, Dr. Hershkin returned to New York as a resident in oral and maxillofacial surgery at St. Luke's – Roosevelt Hospital in Manhattan, where he served as Chief Resident. Dr. Hershkin is a co-author of a chapter on oral and maxillofacial regional anesthesia in a textbook titled, "Peripheral Nerve Blocks – Principles and Practice", as well as the author of multiple published case reports. Dr. Hershkin enjoys teaching and has lectured on various topics to residents in training as well as to his peers. He is on staff at Mount Sinai in Manhattan.
While still in residency, Dr. Hershkin was offered and accepted a position with a highly esteemed oral and maxillofacial surgical practice in Richmond, VA where he obtained a great deal of acumen relating to melding his clinical skills with the chairside manner required for private practice from the well-known surgeons of that practice. After several years with that practice, Dr. Hershkin decided to return to his roots in the New York area, eventually opening New York Oral & Facial Surgery ("NYOFS") in the fall of 2009 with the goal of creating a culture that is dedicated to the ultimate patient –centric practice – one in which, from the initial phone call to the final post-operative visit, everyone who visits NYOFS would experience the utmost in quality, compassion, safety and customer service.
"I hold the work that I perform and the way in which my patients are treated to the highest standard. It is the goal of my team and I to provide unparalleled care to our patients on a very individualized basis in a relaxed, unrushed, one on one atmosphere."
In his spare time, Dr. Hershkin enjoys spending time with his wife and their three daughters. He loves the Jets, Yankees, Islanders, Knicks and Wisconsin Badgers and enjoys playing ice hockey, seeing live music, fishing and is a talented chef at home.